>
UX Research in Japan
>
UX Blog
>
January 2018
>
Galapagos Syndrome and the Birth of Tap and Go Experiences
The Mitsue-Links UX Blog shares some of our insights and opinions about UX in Japan, experience design and cultural differences between user research in Japan and the world.
If you want to find out more about us, please contact us at uxa-japan@mitsue.co.jp
Galapagos Syndrome and the Birth of Tap and Go Experiences
These days, it's difficult to ignore the rise in contactless payment systems such as Apple Pay, Google Wallet, and Android Pay. Their ease of use and convenience have lead to great user experiences that are now transforming the way we interact with point of purchase systems. But despite the recentness of these services, the technology behind them has its roots in Japan and goes back much farther.
Japan is a unique place. As an expat, there have been a myriad of cultural differences to assimilate to. Even after four years, the depth of these idiosyncrasies still at times astounds me. Some distinctions are overt, such as efficiency and punctuality, the quality and attention to detail of services, or the architectural mix of archaic and modern. But other things exist beyond the surface: things like behavioral attributes, cultural taboos, different laws, or economic underpinnings.
As for the world of business and tech, there is an almost contradictory mix of speed and innovation with a tendency to loyally adhere to traditional principles. One interesting phenomenon within this space is what has come to be known as Galapagos Syndrome. This is a reference to Charles Darwin's work in the Galapagos Islands, where he discovered that isolation could lead to the evolution of wholly unique species of flora and fauna.
Similar to what Darwin found in the Galapagos, there are many instances where technology in Japan has developed in isolation on a path of its own. Japan's economic and innovative power allowed it to create revolutionary products, which, in some cases, long proceeded such developments in other countries. However, these products remained strictly available in Japan.
One example of this was DoCoMo's 1999 release of the first commercial mobile internet service, i-mode. It's success in Japan lead to interest by several other countries around the world. But due to various issues, including compatibility, the service never took off globally, and Japan was left alone to develop extremely rich feature phones that enabled users to browse web pages and send emails long before the iPhone, or other smartphones, entered the market.
Another innovation that Japan helped pioneer was contactless payment systems. Ahead of its time, Sony developed the FeliCa (short for Felicity Card), which uses radio-frequency identification (RFID). You may have heard of similar systems powering your smartphone e-money tech called NFC (near field communication). Both are subsets of RFID systems. FeliCa technology was first used in 1997 in the Octopus card for Hong Kong's public railway system. It's popularity lead to the creation of Japan's own version, the Suica card, which could be used on trains run by the Japan Railways East Company.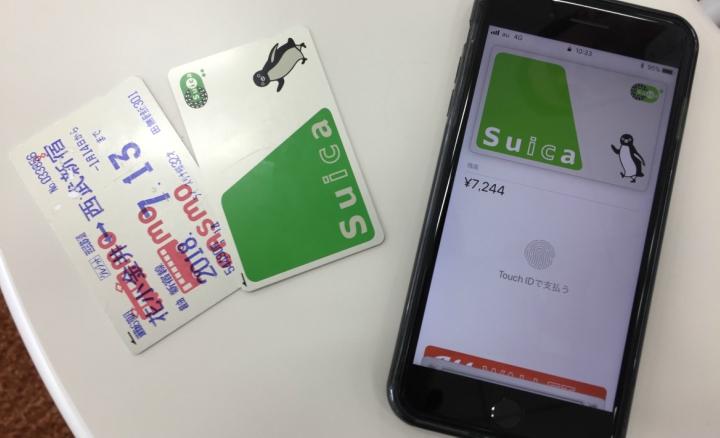 Since then, these transportation smart cards, now known as IC cards, have become ubiquitous. Other than serving as train passes, they can be used on many bus lines and in an increasing number of taxis as well. They can also be used for vending machines, coin lockers, and shopping at hundreds of thousands of stores and restaurants all over the country.
Aside from IC cards, there are also a number of other prepaid contactless smart cards in Japan such as Edy by Rakuten, Nanaco by Seven & I Holdings, and QUICPay by JCB. These allow users to make purchases at participating stores while simultaneously collecting redeemable points. The collection of points is a highly valued aspect in Japanese retail commerce.
Physical IC cards were not the only thing that Japan developed in this field. They were also first to introduce mobile payments with the Osaifu Keitai or "wallet phone" in 2004. This was a full ten years before Apple Pay was released.
Using FeliCa technology, the Osaifu Keitai offered similar, if not more, features as Apple Pay and its contemporaries. Users were able to register all of their physical contactless payment cards to their mobile and pay at designated areas. Readers for this service were already widely available due to the popularity of the physical IC cards.
Similar to i-mode, the Osaifu Keitai never gained traction abroad. It remained popular in Japan until 2007 with the release of Apple's iPhone. iPhone's were not compatible with FeliCa technology until the iPhone 7, when Apple realized that supporting FeliCa was a key step in successfully launching Apple Pay in Japan and allow the phones to also serve as transit passes.
Along with contactless payment and e-money, Japan has also been a pace setter for camera phones, 3G networks, mobile music downloads, and digital TV services. These innovations enjoyed enormous local success. And in spite of Japan's attempt to replicate the success abroad, there were a number of issues that prevented global adoption. One of these, as theorized by Yoichi Washida at the Ericsson Business Innovation 2013 conference, was an oversight in design importance.
Another, as pointed out in a paper by the Information Technology & Innovation Foundation (ITIF), was that companies in Japan decided to develop their own technology standards instead of adhering to global norms. They did this for two reasons. One was to create domestic advantages against foreign competitors. Second, they hoped that other countries would adopt their new standards.
However, other countries did not adopt Japan's new standards but instead opted for internationalized ones. And in not adopting, all the innovation that had been developed for the Japanese market was essentially non-transferable to global markets. This eventually lead to early leaders in Japan falling far behind their international counterparts.
Given Japan is still a hugely innovative nation, Galapagos Syndrome isn't necessarily a negative thing, but more of a lesson to be learned from. As an example of new technology on the horizon, take a look at CNN's interactive site titled Vision - The Future of Japan. But to avoid developing technologies that are incompatible or not adaptable globally, companies will need to open themselves to international standards and modes of thinking.
Galapagos Syndrome is not something that only affects Japanese companies. It goes both ways. A lot of big foreign companies have met with success in Japan (Apple, Amazon, and Netflix to name a few) but that doesn't mean it's easy to replicate. Just as the evolution of Japanese products and services have made it difficult for these companies to transfer abroad, so too has it made some foreign products and services difficult sells in the domestic market. Success in Japan often means extreme sensitivity to what my co-workers have often referred to as "Japanese sense". Understanding the local market in all its various layers is imperative.