October 7, 2005
Web Essentials 05 Participation Report
Kazuhito Kidachi
Front-end Engineer, Web Development Team
I took part in Web Essentials 05 (hereinafter called "WE05"), which was held on September 29 and 30 at University of Technology Sydney, located a little away from central Sydney. Just one year ago a conference with the same title (Web Essentials 04) was held in the same place. Web Essential 05 was the second Web Essential. Last year, I was the only Japanese that participated in Web Essential 04. This year, the number of the participants was about 320 for WE05, larger than for the previous conference (about 200 participants). Nevertheless, the participants from Japan were only myself and one other web designer from Sri Lanka, a friend of mine.
This Web Essentials is positioned as a conference "by developers for developers".In spite of its unchanged orientation, WE05 was more upgraded or more elaborated than last year's conference in some points. I had two very fruitful days there.
First of all, presentations given there this year covered more topics. The presentations given there last year covered in particular Web standards, and above all, markup languages, style sheets, and accessibility. The presentations this year dealt with not only these topics but also work flows, users' experience, microformats, and Ajax (short for Asynchronous JavaScrip + CSS + DOM + XMLHttpRequest). Therefore, some presentations were made at different places during the same time slot.
In addition, WE05 Podcasts are available, although they do not cover all of the lectures given there. Podcasts are very epoch-making and allow even non WE05 participants to have a vicarious experience of part of the conference by listening to the WE05 Podcast while viewing separate open reference data.
During the conference period, two night parties were held (only one party was held on the first night at last year's conference). More care was exercised so that speakers could communicate with participants or participants could communicate with one another. Also, lunch time was an ideal place for communication and I am grateful I was able to make some new friends through the parties there. A breakfast party with a speaker (Mr. Tantek Çelik, described later) was held, which was not an event included at the last year's conference. The breakfast party allowed us participants to share valuable time with the speaker.
In technical aspects, I felt, there was not so much I got through this year's conference. But I think I was able to get a lot of motivation and inspiration there. Although I cannot talk about all of the WE05 presentations in detail in this column, I would like to talk about some impressive ones including speakers' profiles.
For the many presentations that do not appear in this column, I strongly recommend that you access the WE05 site and view lecture data or listen to the Podcast. Or, please look at photos with WE05 tags on Flickr or access search results of WE05 tag on Technorati and read the many articles written about the Web Essentials. I'm sure you will be able to deeply experience the attraction of WE05 and its meanings.
Finally, the photo below shows the members of the Web Essential Steering Committee (Mr. Russ Weakley and Mr. Peter Firminger of Webboy and Ms. Maxine Sherrin and Mr. John Allsopp of Westciv), which planned the conference and I would like to take this opportunity to express my gratitude to them. Thank you.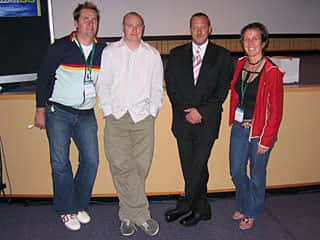 For more information on our services, timeframes and estimates, as well as examples of our work, please feel free to be in touch.