August 11, 2006
SIGGRAPH 2006 Participation Report
Yukiya Shimba
Director, Mitsue Media Creative
The views were completely different from the United States that I knew. It made me wonder, so I asked the taxi driver about it. He told me the area is called New England, and taught me a bit about its history. You could see old townscapes here and there that resembled London, which I visited just a month ago. It was a very beautiful place and I felt comfortable there.
From July 30 to August 3, 2006, the largest ever computer graphics show SIGGRAPH 2006 was held here in Boston, the capital of Massachusetts and located on the northeastern coast of the United States. Our company was fortunate to be able to participate as an exhibitor for the second time, after taking part in SIGGRAPH2005 in Los Angeles.
Last year's exhibition involved trial and error because we did not know anything about the show. This year we could use our experiences from 2005 to take a more audacious approach.
As soon as the exhibiters' area was opened to the public at 9:30 a.m. on August 1, the first day of the show, visitors came in browsing. Just like last year, some of them asked us what a Web production company is doing in a computer graphics show, as soon as they found our booth. But most understood when we explained the reasons, and we got good feedback over the three-day exhibition period. At the same time, we identified many points that we need to think over and work on for next time.
Differences in Booth Exhibitor Companies from Last Year
Looking at the exhibition booths around us, I found the glamorous booths of regular exhibitor companies. But I also felt things were a bit different from the previous year's exhibitions. Here are some of the differences I found.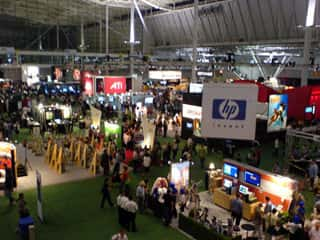 Today, every thing that Google does attracts attention. This company made its first booth exhibition at SIGGRAPH this year. The booth was located close to a corner, a little away from the regular exhibitor companies positioned in the center.
The center of Google's exhibition was Google Earth and SketchUp, which everyone knew. On large monitors located around the booth, satellite images of Google Earth played. Demonstrations of SketchUp were also held. A large number of visitors were listening hard to explanations given by Google personnel, and this left a strong impression on me.
I was also surprised to see that Google had set up a desk exclusively for displaying recruitment information.
One of the stacks of five-color quality paper on the desk exclaimed "Google does Graphics!" This seemed to be suggesting to interface designers and graphic designers that, "We place importance on graphics, too!"
Also, long lines formed for T-shirts and pins that were being distributed free on a first-come, first-served basis for three days, showing the strong interest that visitors had in this company.
An Increasing Number of Web-related Companies
Something else worth noting, besides the booths of major Internet companies like Google, is that many visitors could be found at the booths of companies that may be small but that have put forward excellent Web 3D technologies. Many informative displays were found at these booths, including the interactive 3D technologies that enable direct pasting to PDF.
I was also surprised to find Adobe, with its booth in the center of the exhibition hall, giving workshops on Flash 8. Adobe has held workshops on AfterEffect, Premiere and other image editing and effect processing, but this must have been the first Flash workshop given in a forum like this since the company acquired Macromedia.
On occasions like SIGGRAPH, people tend to be drawn to the exhibition area where exhibitor companies gather. Another focus of attention was the area called Emerging Technologies, where many booths displayed new technologies and initiatives.
This is a place where media artists, researchers, universities and individuals from all over the world display their achievements. Many of the displayed technologies have already found practical application, or are ready to be turned into products in the near future.
All the exhibits made full use of digital technologies but analogue elements could also found in many of them. A phrase like "Emotional Experience --- felt using your five sensory perceptions" seemed fitting.
For example, there was an interface technology that allows users' hands and fingers to control screen displays, instead of a mouse. When I actually tried it, displays could be moved and changed by applying varying pressure with my hand.
There was also an example in which the surface of water served as an interface, and changes could be made by touching the water. There were many other examples that similarly made use of the sense of touch.
Another focus of attention at the SIGGRAPH was Electronic Theater, where carefully selected short films brought in by people ranging from famous filmmakers to film students from all over the world were played.
All I can say about the films was that they are wonderful, but what drew my attention was a new initiative with the audience prior to the film.
Films were played in a hall that resembled a large movie theater. The audience was given a stick that could be held in the hand when they entered the hall. The stick was like the one used when checking your vision, covering one eye. Red and green light reflectors were attached on either side at the tip of the stick.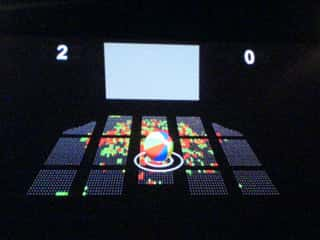 When I sat in my seat and looked at the screen, something that looked like the seating chart of the hall was projected onto the screen. On the chart were found changing patterns in red and green.
The colors of the stick given when the audience entered the hall and the coordinate of the seats they were sitting were reflected on the screen, and they changed depending on how the audience reacted. This appeared to skillfully prompt the audience to participate in the attempt. When all the audience took their seat, they were encouraged to play a game using the stick while the film was being prepared for showing. People really seemed to have a lot of fun with the game.
Communication That Does Not Rely on Words
People came to SIGGRAPH2006 from all over the world, with different linguistic and cultural backgrounds. Recognizing this, creators worked out their ideas and tried to encourage the audience to laugh or cry without relying on words. My impression was that the audience joined in with the efforts of the creators and enjoyed the situations along with them, instead of just being passive recipients.
Most of the daily work at our division requires content planning and design, and then actually producing the content. I have tried to go about these tasks while taking into consideration how users can be more skillfully prompted to action, or what is needed to appeal to users' senses so that they are prompted to do something.
It can be said that content that appeals to the senses is that based on nonverbal communication (or communication that does not rely on words). My trip has given me many clues in this regard also.
For more information on our services, timeframes and estimates, as well as examples of our work, please feel free to be in touch.