June 29, 2012
Global ICT Summit 2012
Christian Brown
Corporate Development Department
A Global ICT Summit was hosted by Nikkei Inc. and the Japanese Ministry of Internal Affairs and Communications in Mid-June. We interviewed Christian Brown who attended the summit.
What was the reason for attending the event?
The Global ICT Summit 2012, a two-day symposium cosponsored by Nikkei Inc. and the Ministry of Internal Affairs and Communications, looked at the future developments of information and communication technology (ICT). As Mitsue-Links is in the ICT industry, it was important that we attended to gain an awareness of development prospects over the coming years.
How was the event structured and who was in attendance?
The symposium was held in the Nikkei Hall in the heart of Tokyo's Otemachi District. The event was divided into four sessions spread over two days; I attended the morning assemblies on both days.
The event was opened with a speech from Internal Affairs and Communications Minister Tatsuo Kawabata, and then followed by a series of informative lectures and lively panel discussions.
Could you give a summary of the symposium sessions that you attended?
As mentioned, the event was opened by Minister Tatsuo Kawabata who stressed the importance of ICT for economic growth. He also highlighted the need to formulate basic strategies through public-private collaboration to create global standards for development.
Minister Kawabata was followed by another ministerial-level politician, the British government's Minister for Culture, Communications and Creative Industries Ed Vaizey MP. Mr Vaizey noted the recent achievements in the ICT sector in the UK, and how the country is now the tech-hub of Europe. He said that there was strong government support for an internet economy and that the ICT district in east London was flourishing.
This was then followed by a lecture from Sir Howard Stringer, CEO of Sony Corporation. Sir Howard stated that in an increasingly digitally competitive future, Japan and Japanese businesses must become more flexible and nurture a culture where people can take risks without fear of failure.
Closing the session was a panel discussion on big data, an area where rapid growth is expected. Big data is the utilisation of a colossal amount of both structured and unstructured information produced by people and companies. Successful utilisation of big data will lead to improvements in a number of diverse areas such as power generation, weather forecasting, healthcare and urban planning.
The second morning session started with a presentation from Mr Jim Hagemann Snabe, the Co-CEO of SAP. He said that ICT was on the verge of a paradigm shift that was being driven by mobile, cloud and big data. He stated that future advances in technology will give rise to an intelligent business web, where the boundaries between companies will become more fluid as services become personalized and more efficient.
Next, Mr Martin Jetter, President of IBM Japan, focused on big data and gave some case studies of its application as a tool for prediction and resource allocation. When working with big data, he also highlighted four v's that are required for successful application; volume, variety, velocity and veracity.
This was followed by Dr Hiroshi Komiyama, Chairman of Mitsubishi Research Institute, who focused on the need to turn Japan into what he called a platinum society – a sustainable and satisfied society that is based on technology and knowledge.
The morning session was concluded by a panel discussion on smart technologies in a world of cloud computing. During the session the topics included smart cities, the use of electronic vehicles, disaster prevention, security, energy conservation and the overall trend toward smart societies.
What impressed you the most?
I was impressed by the existing applications of the big data projects that were having a real impact on improving people's safety and quality of life. One example cited was in Rio de Janeiro, where the city government worked with IBM to create an intelligent information centre.
In what was described as a global first, we heard how all operations (more than 30 municipal and state departments plus private utility and transportation companies) in the city of over six million people was integrated into a single digital command-and-control system.
A key feature of this intelligent system includes a weather and flood forecasting program that can predict emergencies up to two days ahead of time. This allows the city to prepare and position rescue and support services close to where problems are likely to occur.
Do you think it is important to attend such events?
I feel that to ensure our service provision and knowledge of customer expectations remains second to none, it is crucial for Mitsue-Links to have staff attend events like the Global ICT Summit. This event had an inspiring collection of presidents and senior executives from some of the world's biggest and most influential companies. To be able to hear their thoughts and opinions on the future is an invaluable experience.
What do you think about the future of the ICT industry in the next 5 years?
I feel that with the speed of innovation in the ICT industry, it is difficult to predict exactly what will happen.
However, it is clear that ICT will play an increasingly important role in our lives and that role will become more intelligent yet subtle. It may even become so subtle that we are unaware of the actual function of mobile, cloud and big data in our lives as devices and machines start to interact and communicate with each other in increasingly complex ways.
There will also be increase in data analysis and modeling leading to advanced and accurate forecasting for a huge number of issues, including: patterns of health and disease, global weather and climate, tsunami height and damage, and crime hotspots.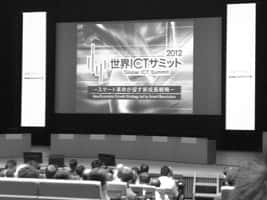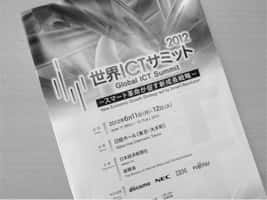 For more information on our services, timeframes and estimates, as well as examples of our work, please feel free to be in touch.