>
UX Research in Japan
>
UX Blog
>
December 2016
>
Culture Shock: Japan's Winter Holiday Season
The Mitsue-Links UX Blog shares some of our insights and opinions about UX in Japan, experience design and cultural differences between user research in Japan and the world.
If you want to find out more about us, please contact us at uxa-japan@mitsue.co.jp
Culture Shock: Japan's Winter Holiday Season
It's the holiday season here in Japan, and after a long hiatus, we'd like to get the Mitsue-Links UX blog up and rolling again with a festive start. We've talked before about the importance of cultural differences in Japan and their effects on the behaviors of users. So, I thought it'd be great to look at the Christmas and New Year's holiday traditions in Japan, some of which are observed nowhere else in the world.
Growing up as a Christian in the United States, Christmas was perhaps one of the most important times of the year. Presents were purchased months in advance, lights were hung on every street, trees were precociously decorated, and seasonal tunes were played on the speakers of every store in town. And every year, on Christmas day, we'd tear into the presents that Santa left for us, go to church, and then retreat to a relative's house where the family had gathered for a massive feast of turkey, ham, and all the fixings. It was a time of celebration, giving, and family.
When I spent my first Christmas in Japan, I had never experienced anything outside of my own culture. On the surface, the usual markers seemed to be in place. The lights, trees, and seasonal tunes were all there, maybe not as omnipresent, but there nonetheless. All the stores had Christmas specials, Starbucks had its Christmas blend, and all the children were thinking about what toy they wanted from Santa. And all this was because Christmas had been successfully commercialized in Japan post World War II.
But that's about as far as it goes. Christianity doesn't have a strong presence in Japan (only about 1 percent of the population), so those religious overtones are entirely absent. Among other things, families don't keep massive fir trees in their living rooms and kids don't expect piles of presents (in fact, they'd be lucky to get more than one). Christmas is not a day to be spent at home with family, and most employees don't even get time off. The only holiday is the Emperor's birthday on December 23.
In this light, it's not hard to understand that Christmas values are different. In the United States, Christmas is viewed as a time of family and giving, whereas in Japan it's more focused on romance. Many couples use the occasion to go on expensive dates, with Christmas Eve often cited as the most romantic night of the year. In Tokyo especially, getting into a popular restaurant or hotel without a reservation on Christmas Eve would be next to impossible.
But for those Japanese who do spend the time at home with family, a giant turkey or Christmas ham is not on the menu. These foods are not widely available. Japanese living spaces are also quite small and rarely include the kind of conventional oven we see in the West.
Over here, fried chicken is the meal of choice on Christmas day and Kentucky Fried Chicken (KFC) one of the main providers. Sometime in the 70's, KFC came up with the "Kurisumasu ni wa kentakkii" marketing campaign, or Christmas at KFC. And during the campaign they offered special holiday chicken buckets. The idea became popular and, according to the BBC, now accounts for a third of KFC's yearly sales in Japan. The usual Christmas set includes a bucket of fried chicken complete with Christmas cake, salad, and champagne. Although, you can even get a premium whole chicken.
New Year's is also celebrated here and has a long history of tradition. During this time, most of the smaller shops as well as post offices and hospitals shut down. And some places look like ghost towns. You can't even get money out of the ATM during this time. Many company employees also enjoy a holiday break, excluding some in the service industries (retail, fast food).
Most companies wrap up the year by holding a Bounenkai, or year-end party. The Chinese character translation can be taken literally as "forget the year party," and the entire ordeal is meant to symbolize that the new year offers a new beginning. The night is often boisterous and usually complete with food, alcohol, and/ or karaoke. Then at the end of December, employees begin their Nenmatsu Nenshi (yearend/ year beginning) vacation and return home to be with family.
While New Year's Eve tends to be a time for parties and celebration around the world, things are a bit quieter in Japan. Families often stay in and enjoy watching NHK's Kouhaku Uta Gassen (red and white song battle). This is a special TV program that has been aired annually since 1951. It pits two teams (red and white) against each other in a song and dance competition.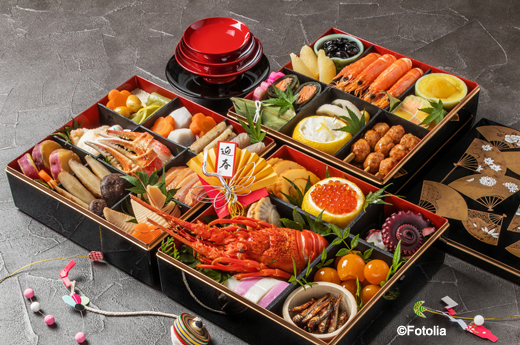 At midnight, families eat cold toshikoshi (year-crossing) buckwheat noodles which symbolize longevity. Then on New Year's Day, they eat a special boxed meal called osechi. This tradition began over a thousand years ago in the Heian period, at which time it was considered unacceptable to cook during the first days of the new year. Thus, osechi were prepared in advance. The dish consists of boiled vegetables and seafood flavored in soy sauce or sake.
Many Japanese also visit a shrine or temple on New Year's Day. There they throw coins into a large collection box and make a prayer or wish for the New Year. In Tokyo, scores of people flock to shines at midnight on New Year's Eve, and the most popular shrines in Tokyo attract millions of visitors over the entire New Year's holiday.
What is most interesting about all of this is the juxtaposition of Japan with other countries. While Christmas was spread around the world by Christianity and is for many a deeply religious holiday, Japan has embraced a purely secular iteration. All the same, New Year's is a loud, vibrant event for most of the world, usually complete with parties and large fireworks shows. But even though Japan adopted the Gregorian calendar during the Meiji Period, it celebrates the occasion as a quiet time to be with family. These ideas serve to highlight Japan's fascinating uniqueness. No matter how many ideas Japan seems to adopt from other cultures, Japan has a way of taking those ideas and morphing them into something totally its own.