For Education, Motivation and Interest.
We believe that people don't grow when training and education are imposed. Rather, our employees grow, reinforce their values, enhance thinking and behavior as a result of their own motivation and interests.
An environment that provides excitement on a daily basis
With the aim of improving technical skills directly related to our business, for example web design and coding, our staff become lecturers and host internal seminars where they share know-how and offer hints for success. Occasionally, guest presenters from outside the company are invited to give seminars. Furthermore, it is possible for staff to attend work-related external seminars.
Tech Lounge, organized by our Seisaku Honbu (Development Division), is an informal gathering where employees get together to share information. The Lounge, to which all staff are invited, provides an opportunity for information sharing and proactive discussion on the latest technologies, industry trends and suchlike.
Global Talent Development Program
To assist in transactions with our growing number of international clients as well as to ensure smoother global site development projects, we have native English speakers who work with staff on international projects and support employee language development through classes and internal seminars. As our employees build their English ability they participate in overseas seminars and conferences related to various aspects of the web, thus allowing them to gain know-how, gauge future industry trends, as well as experience the latest web-related technologies.
Fundamental Skills are Acquired During the Initial 2 Years
For the initial month after graduates join us, and before being assigned a team, we provide foundation-level training on website production starting with HTML and CSS. In addition, we run sessions on business manners, carried out by professional lecturers, and senior staff from various departments run induction workshops.
Foundation Training (for Mid-Career hires)
A fundamental skills training initiative covers a number of topics including web basics, an introduction to design, the foundations of coding, an induction to direction. As the induction is tailored to the level and needs of each entrant, even those with relatively little experience can join us with peace of mind.
After being assigned to a team, employees will work as an assistant on projects under the guidance of an OJT mentor. As new recruits participate in several projects simultaneously, they often work with specialists from various fields allowing them to acquire a wide range of knowledge.
We have earned international accreditation related to management processes such as, Quality Management (ISO9001) and Information Security (ISO27001). In order that all employees have shared recognition of the importance and merits of accreditation, associated training is carried out at fixed intervals.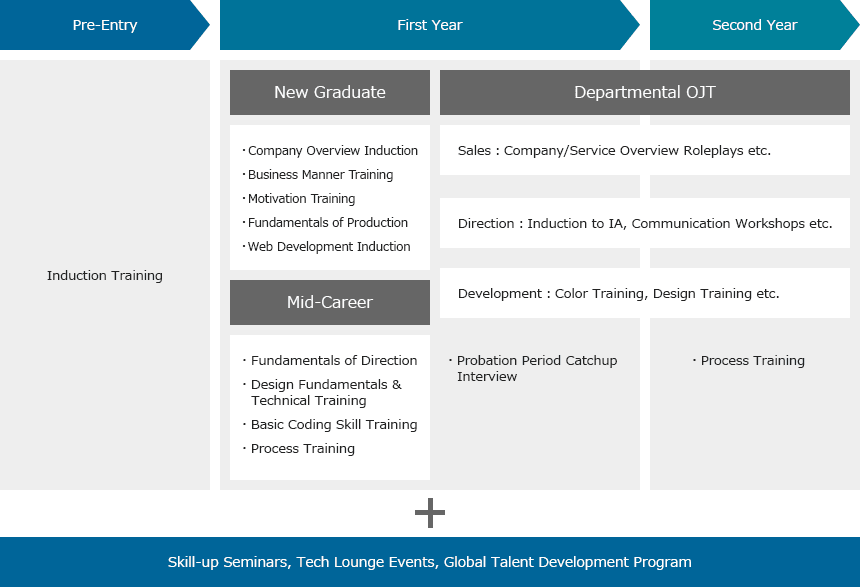 Considering the aptitude and ambition of staff on an individual basis, we set out a career path that will facilitate personal growth and development.