Easy-to-understand texts and contents that positively influence users' buying behavior
From "easy-to-remember" to "easy-to-consider"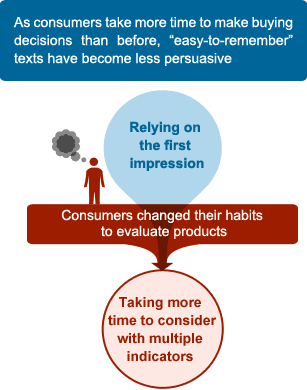 Creating impressions with bold, fancy text alone is insufficient
There are countless books and blogs that offer web content writing guidance. This phenomenon indicates that more and more people are becoming sensitive to the quality and appearance of website texts. In fact, many websites use eye-catching and memorable texts to capture the users' attention and retain their interest; but that is not enough to convince them.
Technical advancement leads to complexity
Users' buying behavior has been changing: nowadays they spend hours searching for information on the web and examine price comparison sites. These users will be attracted by eye-catching texts, but they may feel unsatisfied if such texts do not provide sufficient information or are difficult to understand.
We believe that providing the website users with "impressive" and at the same time "easy to read and understand" texts will encourage them to more deeply consider buying decisions, thus increasing the conversion rate of the website.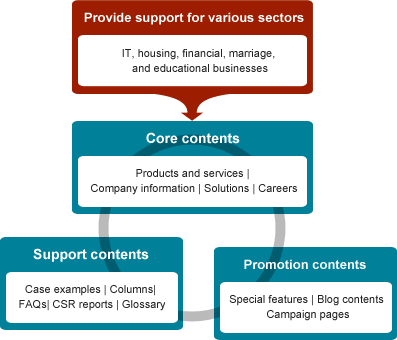 A professional editing/writing team provides quality contents and texts
Our professional editing/writing team provides easy to read and understand website text. By collaborating with other departments, the latest trends in the online world can be reflected in your website.
In addition, with our flexible interview approach, we can create new content material such as seminar reports and town guides. We also provide camera setups with a camera crew as requested.
Web Content Writing Services
Interview, Editing and Writing [Enhance persuasiveness]
Create texts that make the contents appealing to users.
Recruitment Oriented Content Production

Special Feature Article Production

Product Promotional Material Production

Questionnaire Survey Planning and Production
Landing Pages [Enhance Conversion Rates]
Create attractive, persuasive landing pages that prompt user action.
Text Optimization
Review, rewrite and edit the text on your website ensuring their accuracy and consistency in order to communicate accurate information to viewers.
E-mail Magazine Design and Production[Enhance to attract customers]
Leverage e-mails as an important communication tool to attract potential customers to your website and build a long-term relationship with them.
For more information on our services, timeframes and estimates, as well as examples of our work, please feel free to be in touch.