Optimal solutions balancing between business requirements and functionality
As websites are becoming multifaceted and macro-scaled, more sophisticated selection, planning and implementation of optimal systems are needed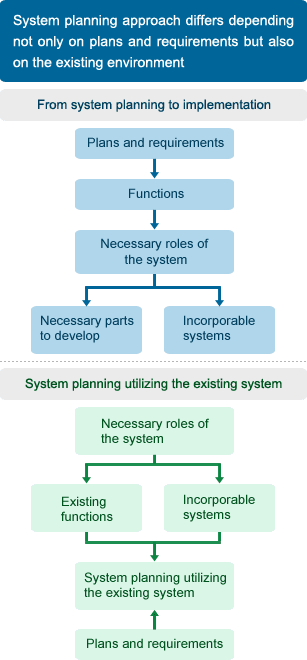 Plans and requirements to solve website problems
Along with the expansion of web marketing and advancement of technologies, issues on website operations are also increasing.
Fundamentally, system solutions are designed to solve these issues; but it is also important to respond as flexibly as possible to the various plans and requirements of clients at the time of selection and implementation of systems.
System planning utilizing the existing system
Another important point of system planning is to effectively utilize the existing system in upgrading to a new system.
Information systems are essential to facilitate website operations; therefore, it is important to select solutions that do not interfere but effectively utilize the existing system.
Collaboration with external web services
Recently, collaboration with external web services such as Google-related services and Twitter has drawn much attention in the web marketing industry.
Since websites used for web marketing are exposed to various media sites, a solution that can comprehensively manage and utilize these media sites is critical, even taking into account possible future expansion of the system.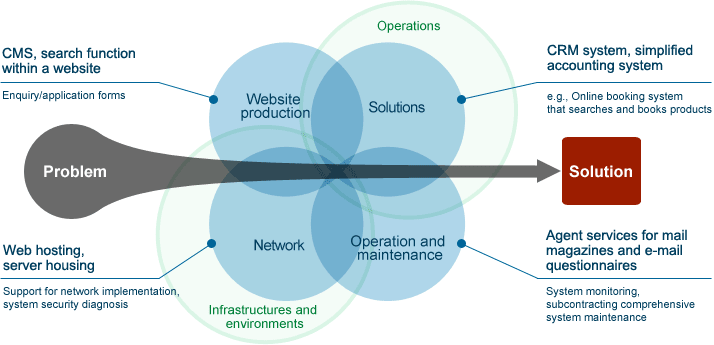 A system solution that solves website problems and supports your business operations
Continuous improvements are necessary for a website in order to produce measurable results from it. There are various purposes, opportunities and methods to improve, and at the same time, there will be other issues to consider such as costs and web workloads.
We offer a wide range of system solutions that can effectively solve and support these issues with short lead times at relatively low costs.
System Development Solutions
MLC Enterprise Cloud
Managed Cloud Hosting Service Specializing in Corporate Site Management.
Internal Search System (FindSupporter Cloud)
Voice AI Channel Creation for Amazon Echo
Leveraging both Amazon Alexa and organizational content assets, a co-creation program to develop new customer touch points (Tech-Touch) through voice interaction.
CMS Development
A CMS solution that provides powerful support for corporate website operations.
Web App Development
Utilizing cloud technology as a base, modernizing legacy apps and supporting the building and management of web apps.
Website Enquiry Management
Server Configuration
Support for configurations of servers that are essential for website operations.
Server Security Diagnosis
For more information on our services, timeframes and estimates, as well as examples of our work, please feel free to be in touch.