Not only complying with official guidelines, we also focus on accessibility strategies tailored to your business model
Accessibility is becoming increasingly critical, due to the rapid development of the web environment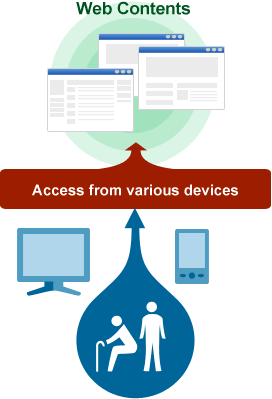 Diversified website users and viewing devices
Website users are becoming more diverse. The population of senior users has been growing, and there are more new device options offered to view websites such as smartphones and tablets.
JIS accessibility guidelines were revised in August 2010, adopting more explicit criteria
The Japanese Industrial Standards for Web Content Accessibility (JIS X 8341-3:2010), which aim to ensure the accessibility of web contents to everyone, were revised on August 20, 2010, six years after the first publication.
The revised standards have adopted more explicit criteria for achievement level of web accessibility, ensuring its consistency with the latest international accessibility specifications (WCAG 2.0).
Assessment agencies also weigh their objective evaluation on website accessibility
Most assessment agencies which objectively assess companies' websites set the achievement level of web accessibility as one of the usability indicators.

Our web accessibility specialists assist you in finding the right solution to meet a broad range of requirements
We offer various accessibility solutions at different levels of magnitude, from fundamental to professional, depending on your needs, budgets and timelines.
Our specialists are well qualified to offer the most suitable solutions for your website, with their extensive knowledge of accessibility guidelines such as JIS X 8341-3 and WCAG.
Web Accessibility Diagnosis
Our specialists clarify the problems of your website that are not easily detected.
Accessibility User Testing
Our specialists analyze and identify the accessibility problems encountered by senior and disabled users.
We offer accessibility development solutions to comply with WCAG and JIS X 8341-3 according to the size and purpose of your website.
accessible Flash content development

accessible PDF file development
Web Accessibility Consulting
Prepare accessibility guidelines and provide technical support and internal training.
Accessible JavaScript support

mobile accessibility support
Web Accessibility Maintenance Support Service [Enhance operating efficiency]
Maintain and ensure the quality of web accessibility based on the verification and periodic diagnosis of the developed content on your website.
An evaluation tool to maintain and ensure the quality of accessibility of your website.
In-House Accessibility Seminars
Provision of seminars at your office location with regard to the accessibility of your web content.
Accessibility Seminars: On Tour
For more information on our services, timeframes and estimates, as well as examples of our work, please feel free to be in touch.