With a broader range of content and active solutions, we offer support for website operations which continues to be more diversified and sophisticated
Operating a website is becoming increasingly complex, due to the advancement of technologies and sophistication of viewing environments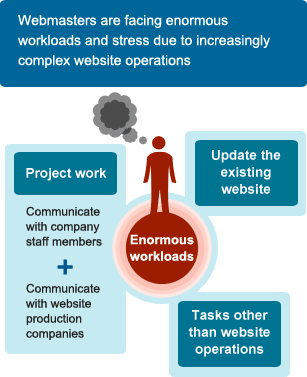 Website operations are becoming more complex every day
A website is a company's commercial presence on the Internet. It is operated for the purpose of website strategies such as promotions and campaigns as well as daily dissemination of updated information. In recent days, website operations are becoming more diverse, complex and burdensome.
The need for enhancing website roles and functions to cater for varied target audiences
Nowadays, a corporate website has varied target audiences, including those for sales, marketing, recruiting, PR advertising and IR information for stakeholders as well as internal education and information sharing. Therefore, it is necessary for companies to enhance the roles and functions of their website to cater for such audiences.
Web marketing also becomes more complex: companies need to adjust their website to various viewing environments
Online marketing methods are becoming more complex along with the rise of social media. As smartphones are gaining in popularity, the need for adjusting a website to various viewing environments is also increasing. This will be one of the challenges for website operations.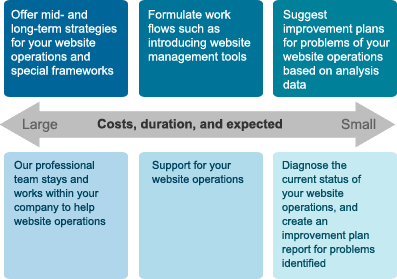 We offer solutions tailored to your requirements
We recognize that our clients have a multitude of requirements to improve website operations, such as workflow structuring, optimization and specialization, depending on the status and environment of their website.
We can flexibly offer a wide range of solutions to suit your conditions, budgets and timelines.
Website Operation Solutions
Investigate the technical, process, and service quality of your website operation. From the conclusions, formulate more robust management flows.
Website Operation Support
Offer a website optimization plan for the entire website operations that is tailored to your requirements.
Global Website Operation & Management service that localizes your site's content, UI and management procedures for the Japanese market while ensuring global consistency.
Hypothesis Testing by UX Experts for Assured Improvement
Site Display Performance Improvement
Webpage display performance influences engagement and conversions. The Complete Solution - from measurement and analysis, to devising improvement plans and their implementation.
Improve site content findability and maximize access through search services and social media.
For more information on our services, timeframes and estimates, as well as examples of our work, please feel free to be in touch.