Media strategies that can enhance "engagement" reflecting the era of digital communications
"Engagement" and "Empathy" are a primary focus for corporate marketing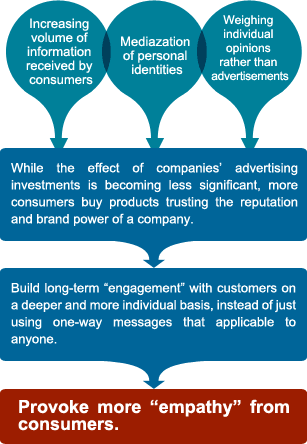 Changes in the era of digital communications
Nowadays, people can easily connect with other people and brands through digital communication on the Internet as the distinction between the real and virtual worlds is disappearing.
More companies employ a one-to-one marketing approach, providing their customers with purchasing support and life-style planning, rather than simply promoting products and services. This enables consumers (website users) to receive more personalized services.
Shifting to a more equal relationship between consumers and companies
The Internet has changed the status of individual consumers: previously they were passive buyers who simply accepted products and services promoted by companies; now they are positively engaged in purchasing activities by exploring products and services on their own and choosing a company with strong engagement skills.
Under these circumstances, it becomes necessary for companies to acquire "knowledge" and "expertise" to utilize various digital data when communicating with their customers.
A new indicator for measuring media effects reflecting changes in consumer behavior
While the effect of advertising investments is declining, more consumers buy products trusting the reputation and brand power of a company. Thus, customer engagement has come under the spotlight as a new indicator for measuring marketing effects.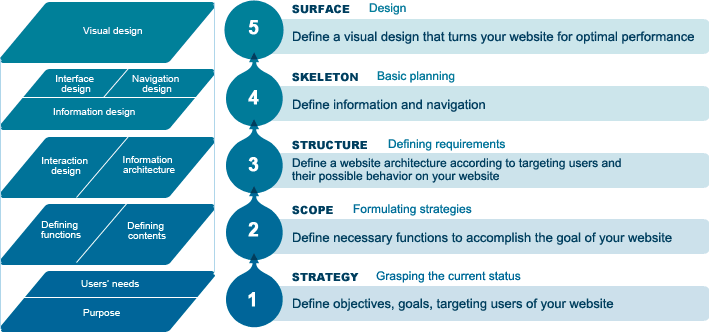 Media structuring looking strictly from the viewpoint of customers
More and more companies come to view their website as a contact point with customers. They try to understand customers and build a deeper relationship with them that is advantageous in terms of their business. With our philosophy that we are "constantly evolving our products and services by listening to the voices of clients", we strive to offer quality media structuring services developed according to the viewpoint of clients in order to satisfy their needs.
Website Development Services
For more information on our services, timeframes and estimates, as well as examples of our work, please feel free to be in touch.