Web Accessibility Evaluation Tool (axe Monitor)
Supporting all of the tasks of your website, from development through to administration, with an evaluation tool that ensures the quality of web accessibility
While websites are becoming more and more important every day, the volume of information published on websites has dramatically increased. Likewise, the importance of accessibility to such information has recently come under the spotlight, along with the release of accessibility guidelines such as the Web Content Accessibility Guidelines (WCAG) 2.0 and JIS X 8341-3.
However, it is not easy to attain the best possible accessibility, as it requires the substantial cost of human-conducted verification for web accessibility compliance in response to rapidly increasing information.
One option is, therefore, to employ an automated evaluation tool for the accessibility check items eligible for the automated process, which reduces costs and enables a wider scope of verification.
To meet our clients' needs for accessibility evaluation, we provide a Japanese localized version of "axe Monitor (formerly WorldSpace Comply)" developed by Deque Systems, Inc., a US technology provider who has built a high reputation for its web accessibility evaluation tools over many years. The Japanese version was developed through collaboration with Deque.
We offer support for the implementation and operation of axe Monitor which has a web-crawler function that automatically navigates your website and checks its accessibility. This enables you to ensure the quality of your website accessibility while effectively cutting costs and time for verification.
Evaluating Accessibility with a Web Crawler Function
axe Monitor is a web accessibility evaluation tool developed by Deque. The web crawler automatically navigates the target website and collects information, and then analyzes the collected data to detect and report any accessibility problems. Unlike other evaluation tools that evaluate one page at a time, axe Monitor can validate an entire website including those with multiple domains and link scripts, thus reducing operational tasks.
Supporting Compliance with Multiple Guidelines
axe Monitor is the world's first accessibility evaluation tool that supports compliance with WCAG 2.0. This also supports the Section 508 of the US Rehabilitation Act, which sets the standards for accessibility in the US.
Furthermore, axe Monitor supports the Japan's accessibility standards JIS X 8341-3 (revised in 2016), as its conformance criteria are identical to that of WCAG 2.0.
Offering a Japanese Localized Version of axe Monitor, a Globally-proven Tool
axe Monitor is widely used in the US as well as by many leading global companies. Under the collaboration with Deque, we have localized the evaluation tool into Japanese: user interfaces for applications and verification reports are available in Japanese.
Offering Complete Support for axe Monitor Installation, Setting, and Operation
Our staff with a broad range of knowledge on axe Monitor and accessibility will provide complete support, from the implementation and setting of the tool through to its operation. There is no need to worry about figuring out how to use the tool.
axe Monitor has various functions to support your workforce involved with your website such as website developers and administrators. Following are some examples.
For Website Administrators: Dashboard Function
Your website administrator can monitor the accessibility handling status on the entire website, including changes in the number of problems, the types of problems and so on. The website administrator can also ...
Set the period of monitoring, and check the status of problems handled by website developers during the period

View a list of existing problems created by type and frequency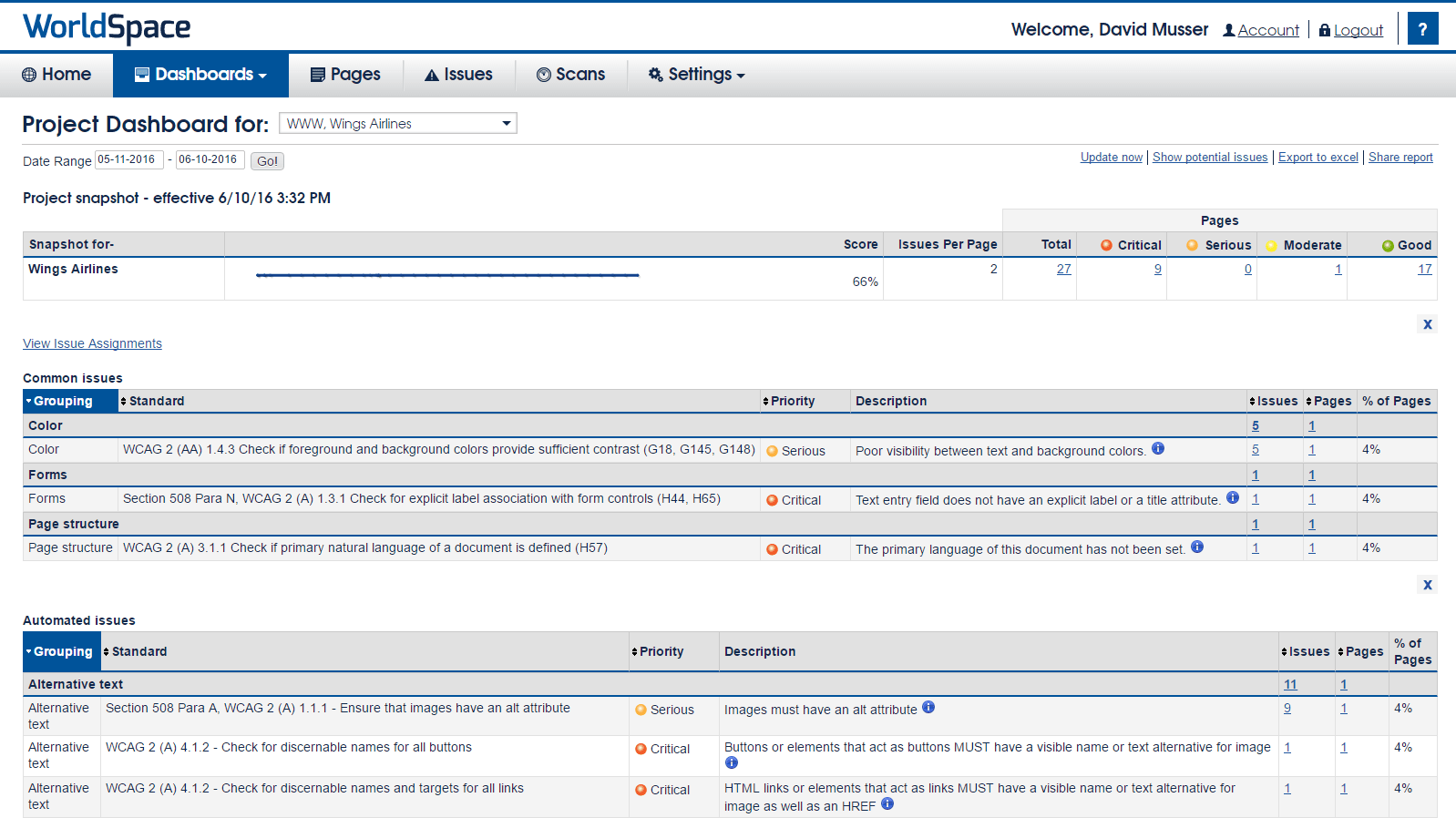 For Website Developer: Reporting Function for Improved Content
Your website developer can use a reporting function to obtain a detailed report with source codes when improving and updating webpages including HTML files. The website developer can also ...
View a list of all problems

View a report created by problem type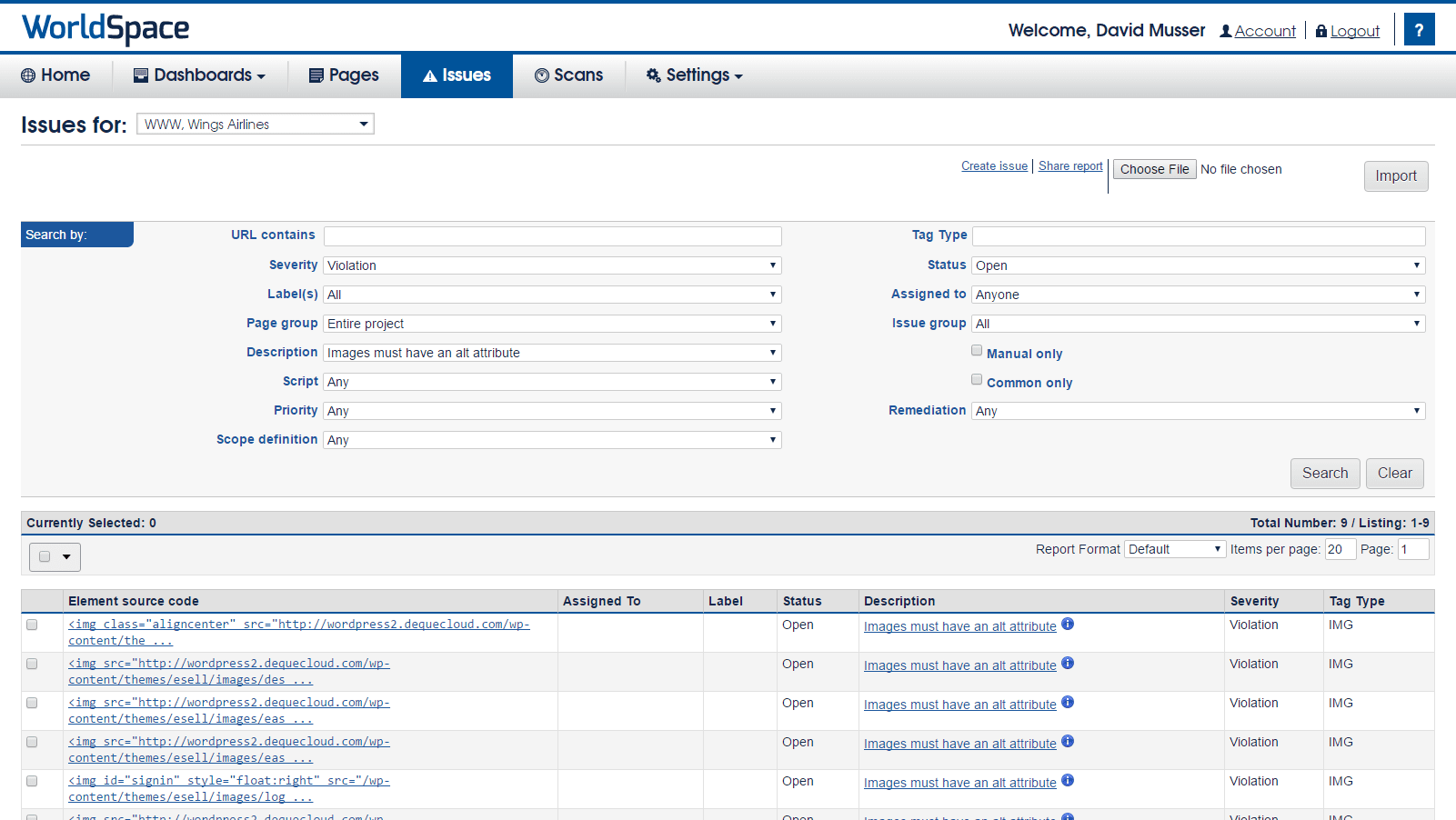 Service Flow (under Mitsue-Links Support)
Interviewing with your staff

Defining requirements

Introducing

Setting

Starting operation support
A demo of axe Monitor is available for further information. Please click Contact Us below and send us your inquiry by email with a subject title "I want a axe Monitor demo".
For more information on our services, timeframes and estimates, as well as examples of our work, please feel free to be in touch.