Global Website Operation & Management
Website management service that localizes your site's content, UI and management procedures for the Japanese market while ensuring global consistency
Many companies encounter issues related to consistent branding, design and content management, subsidiary administration, and management systems etc. when entering the Japanese market.
In order to support international ventures in Japan and allay any business concerns we have established the Mitsue-Links' Global Website Management (Japan) service. The service provides flexible yet robust website management support to ensure consistency nuanced toward the needs of the Japanese market. Our business practices are founded on an ISO9001 Quality Management System and by applying these procedures to your operations, it is possible to perform integrated management.
Furthermore, we have a wealth of experience providing digital support services to Japanese companies expanding overseas as well as working with international clients entering the Japanese market.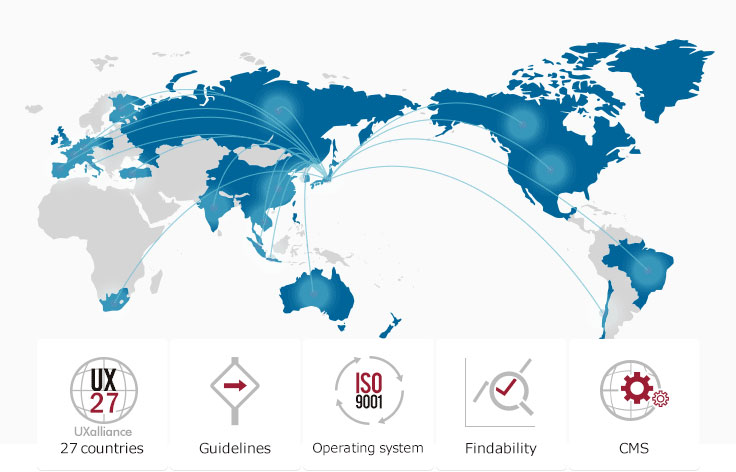 Our Global Website Operation & Management Support (Japan) service provides support in five areas of importance when entering the Japanese market.
User Research

Website Management Guideline Production

Website Management System Formulation (ISO9001 Standard)

Findability Marketing

CMS Development / Operation
User Research (UXalliance)
A shortcut to success in any market is to ensure that your site's operation takes into consideration the user characteristics and needs of the local market.
To ensure your site confers the optimum experience to Japanese users, we offer user testing support, from planning through to reporting, which then forms the foundations of a web governance plan. Furthermore, we have a fully equipped user testing studio which can be utilized for performing web site/application evaluation tests. In addition, our in house professional team can perform expert reviews.
Additionally, we are a member of the UXalliance, a partnership of user experience companies located across 27 countries.
Website Management Guideline Production
The production of Japanese market-oriented management guidelines facilitates more consistency with regard to branding, design and content organization, and management systems. As our guideline service integrates Japanese market characteristics with the needs of international clients, they provide robust yet flexible site guidance to ensure the optimum Japanese localization of globally disseminated information. It is also possible for us to customize existing website guidelines with regard to Japanese market localization.
Website Management System Formulation (ISO9001 Standard)
Integrated site management procedures between overseas head offices and the Japanese operation guarantees not only content quality but also contributes to reducing any communication issues. Furthermore, our business procedures are based on ISO9001. Therefore, the system is standardized, quality improved and costs reduced.
To understand needs and support marketing activities in Japan as well as for the purpose of continually improving findability (accessibility, usability, SEO etc.), we use site analytics together with a content marketing tool to perform quantitative analysis and devise improvement strategies.
CMS Development / Operation
We offer a globally-oriented CMS with both multi-language and multi-site functionality that permits implementation of a consistent web governance system and, if required, expansion of scope to be applicable for other markets. The flexible nature of the CMS permits Operation in accordance with the local characteristics of each market.
Scoping, Ascertaining Issues

Proposal, Initial Quote

Proposal, Quote Confirmation / Contract

System/Flow Establishment, Operating Environment Preparation

Implementation

Operation / Management Activities / Continuous Improvement Cycle Planning
For more information on our services, timeframes and estimates, as well as examples of our work, please feel free to be in touch.