UI Platform & Operation Improvement Support
Hypothesis Testing by UX Experts for Assured Improvement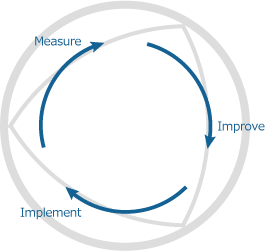 With web and web-related technologies changing at ever increasing speeds, there is now greater diversity in web users, their motives for web use, as well as their preferred access devices.
In this era of change, there is a need to constantly ensure that websites are optimized for users by employing PDCA (Plan, Do, Check, Action) cycles in order to maximize operational effectiveness. Furthermore, it is particularly important to perform continuous improvement of the user interface (UI), a key influencer in a website's usability.
In recent years, it has become possible to employ various web-based services for the performance of efficient and effective AB tests and suchlike. By using such web services, it is now relatively straightforward to perform AB tests - even without high level professional knowledge and advanced design skills. Example services are Visual Website Optimizer as well as Mixpanel.
However, in order to more effectively improve the UI of the website using a web service, the development of a valid hypothesis is necessary. Furthermore, in addition to the results obtained through quantitative testing, such as AB tests etc., it is also important to gain insights into both site and user characteristics by means of a qualitative approach.
Our UI Platform & Operation Improvement Support service, implements an ongoing and effective improvement in the website UI - from the UI platform architecture (web service introduction and configuration) to operational support.
To improve the UI of websites, we construct platforms and then perform the operations. We provide complete support - from defining tangible KGIs/KPIs and offering consulting services, through the selection of a web service for sustainable and effective improvement, actual service introduction, to operation (from drafting hypotheses to implementing tests, regarding test outcome - both quantitative and qualitative testing, hypothesis reconstitution, improvement based on test results etc.).
By involving experts from the sphere of UX in hypothesis testing, in addition to drafting improvement measures, we ensure the implementation of a very credible improvement plan.
In order to improve website UIs, we offer hypothesis planning, implementation of quantitative tests - including AB tests. We also produce comprehensive and integrated improvement plans that include results from qualitative testing.
Dependent on your operating system and budget, we can flexibly provide a combination of the following:
Define KGIs/KPIs

Select web services to perform quantitative verification (such as Visual Website Optimizer and Mixpanel etc.)

Introduce a web service to perform quantitative testing (various configurations, preference settings etc.

To identify issues, selection of qualitative and quantitative research methods as well as decide on an analysis plan

Implementation of improvement measures
For more information on our services, timeframes and estimates, as well as examples of our work, please feel free to be in touch.