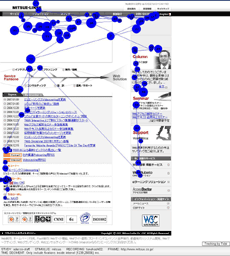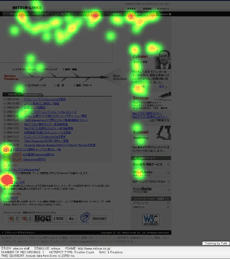 Eye tracking is a scientific method used in fields of research involving psychology and cognitive science to track the movement of subjects' eyes through an infra-red analysis of subjects' faces, eyeballs, and corneal reflex.
This service is a usability survey and analysis service that can assist you in detecting problems with web usability which cannot be identified through access log analysis or user interviews. Eye tracking can assist you with improving web usability through the scientific analysis of a user's line of vision when browsing websites and what they focus on.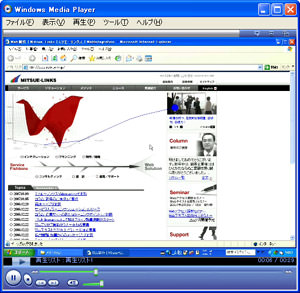 Scientifically Based Usability Surveys Made Possible Using the Latest Eye Tracking Technology
Even when user awareness and behavior can be ascertained through conventional usability survey methods such as user interviews, user tests, and access log analysis, there is no way of telling whether these results are based on what users looked at or did not look at on websites. The muscles in the eyes are very strong with the eyeball able to shift the eyes' line of vision at very rapid speeds, and eye tracking tools can accurately measure this movement of the eyes, and thereby enable us to ascertain what users are actually looking at, in what order they look at things in, and what they focus on. The analysis based on real data obtained using infra-red to track changes in the user's line of vision, allows for an objective assessment of usability that eliminates arbitrary judgments made by survey administrators.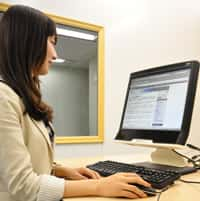 The eye tracking device made by Swedish company Tobii, used in these usability surveys, is unlike the conventional types of eye camera used that are fitted to the body, rather this contact-less eye tracker is built into a liquid crystal display, and is the optimal tool for conducting web usability surveys using monitors.
*

Dependent on the survey target persons, there may be instances when line of sight measurements cannot be made.
Identify Problems More Accurately by Combining Eye Tracking with User Tests
Cognitive psychology studies report on the existence of central and peripheral human consciousness. For example, sometimes you will be concentrating on something or thinking about something on your way home from work, so much so that when you get home, you cannot recall what roads you took to get home. In this case, your peripheral consciousness was telling you that the lights are green and that there are no dangers on the road.
When users browse websites too, the movement of their line of vision does not necessarily correspond with their central consciousness. This is because sometimes the user might be focusing on a particular point, but thinking about something else entirely.
With this service, eye tracking surveys and user tests can be used together to clarify this gap between the user's vision and their consciousness, so as to enable issues to be more accurately identified. These tests can also be used in conjunction with access log analysis for surveying existing sites.
We offer as one of the analytical methods a Web Usability Test Service.
Usability Studies by Eye Tracking Analysis
We can ascertain the problems of current websites by the implementation of user tests, including the eye-tracking study. By clarifying the gap between the current site's user activity and the user needs, we will be able to determine usability complications.
Design Evaluation Analysis Using Eye Tracking During Website Construction
During the process of creating a layout plan in the construction of a website, we can implement eye-tracking analysis to evaluate the design against the user requirements. ISO9241-210 (formally ISO13407) provides requirements and recommendations on the human-centered design process. We utilize these guidelines to ensure that user test results are then exploited to improve the usability of the site.
Eye Tracking Analysis of Image Generation on a Per-Page Basis (Optional)
As part of the analysis of the web usability test to improve performance, the eye-tracking analysis service generates reports on the eye-tracking analysis image and gaze rate analysis for only the webpages where problems were extracted. However, image analysis can be generated for alternative pages in accordance with requests.
For more information on our services, timeframes and estimates, as well as examples of our work, please feel free to be in touch.